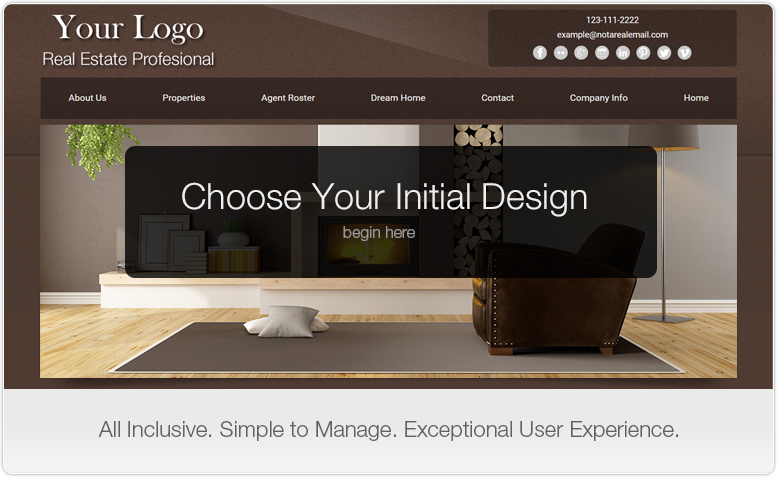 Effective Real Estate Website Templates
We offer complete Real Estate Website Templates as a service! Our Real Estate Website Templates do not require additional programming or software to download. We've simplified the entire process for Realtors to acquire a custom looking mobile friendly real estate website that is captivating, professional, out performs others and is easy to manage.
Simply choose a design, begin your free trial and within one day your new Real Estate Website can be up and running. Adding copy, content and property listings couldn't be any easier using our built in web browser based Agent CMS (Content Management System) provided with each Real Estate Website Solution. Do not hesitate to call toll free (855) 281-8330 if you have any questions about our service or features.
Select Your Initial Design and Begin Your Free Trial Today
Exceptional Real Estate Web Design for a Fraction of the Cost.
We are dedicated to providing the best real estate website templates. We strive to make each one look like a custom website in every way possible. At the same time, we provide the features that count most in attracting potential home buyers. We are always looking for ways to improve the functionality of our real estate website templates to make them even better and more productive to you. Choose from real estate website templates that are easy to navigate, generate leads, properly showcase listings and represent who you are in a manner that's above and beyond the norm in today's real estate industry.
Intuitive Real Estate Website Templates that Deliver Results
Typically, companies that offer affordable templates as we do, tend to look awkward and amateurish in look and style and lack any real presence to engage their web site visitors. The online real estate market is growing more competitive each day. You have only moments to capture the attention of a potential home buyer and average real estate website templates just won't do. We take the time and effort to have each real estate website template professionally designed and meticulously crafted by experienced designers. Our Real Estate Website Templates are exemplary in design and provide a feature-rich user experience.
What We Offer to Agents and Realtors.
Real Estate Designer offers complete real estate website templates as solutions to Agents and Realtors as a part of our service. Our professionally crafted sites are designed and catered to both the Agents' needs and potential home buyer's expectations. The functionality offered within each web site solution makes for a compelling and effective user experience for both the end user and Realtor.
Our sites are designed to be very flexible which means they can adapt and be used by anyone in the real estate industry. For example, pages can be added, removed, updated or replaced. Property types and property labels can be customized to address your target audience when adding properties manually. Each template can be used for traditional and non traditional real estate, single property websites as well for sale by owner websites.
Site Manageability Using our Agent CMS (Content Management System)
Within each Real Estate Website Template Solution is the robust Agent CMS. The Agent CMS is an extremely simple and intuitive content management system that allows the Agent to manage their content in real time with no programming experience required. There are no third party tools, plug-ins or HTML editors needed to manage content within the Agent CMS. Everything is built into one complete system where the Real Estate Professional can load property details; upload PDF's, property photos, content and more using their favorite web browser of choice. Each text field within the CMS includes a WYSIWYG editor so modifying text and manipulating images is a breeze.
Best Real Estate Website Templates Overall
If you compare our pricing, design quality, rich features and site manageability to our competitors, we believe you will find that we offer the best real estate website templates on the market today packaged as a complete real estate website design solution.
Special Offer: 30 Day Free Trial. The cost of our service following your free trial is only $29 /Month.
Click here for IDX options and Add-ons.
Features at a Glance
Fully Responsive and Mobile Friendly
Hosting Included
Preview Mode with Instant Publish
Change Tempate Styles at Anytime within CMS
Adjust the Main Font Families Being Displayed
Add Unlimited Number of Properties
Add Unlimited Featured Properties to Display on Home Page
Add Unlimited Number of Property Photos
Modify and Rename Property Detail Field Labels to Accomodate your Demographic
Create Segmented Property Listings Based on Specific Criteria
Filter Display for Property Listing Pages
Order Properties within Agent CMS
Agent Roster Option
Manage Home Page Slideshow using Default Photos or Add Your Own with Optional Text Captions
Add Unlimited Number of Unique Pages
Navigation Control - Manage Display of Top Navigation and Left Column Navigation Links
Rename All Existing and New Page Name Links
Create True Vanity URL's
Insert Unique Meta-Tags for All Individual Pages
Add Social Media Icons to the Footer and Header of Your Website
Manage Page Content using Text and Image Editors (WYSIWYG)
Embed Videos Directly into Site Pages from YouTube, Vimeo and Similar Video Streaming Platforms
Upload and Apply PDF's to Text and Images
Link to Your Virtual Tours
Google Maps for Properties
Google Analytics
Search Engine Submission
Additional Currencies Available
Printable Flyer for Each Property
Add Open House Info
Mortgage Calculator
Add Custom Articles
Lead Generation Forms
Add Custom Forms
By choosing Real Estate Designer as your website solution, you will acquire an attractive, intuitive and mobile friendly website to engage and entice your potential clients. Try our fully hosted all-inclusive real estate website service today and realize the difference.
View all of our current real estate website templates.
View Client Examples using IDX Add-On Option.
Or click on a sample design below to view the demo website for that series. Each template is offerred in 4 color schemes.